The all-time best-selling coach family is now all-electric.
The Buy America-compliant and Altoona-tested MCI D45 CRT LE CHARGE™ battery-electric coach offers zero-emission transportation, eliminating emissions while delivering high-capacity commuter coach transportation.
Download Brochure
Electric that goes the distance
The MCI D45 CRT LE CHARGE™ battery-electric coach features a revolutionary patented low-entry vestibule with a seating area and ramp that significantly improves dwell times and the boarding and ride experience for passengers with disabilities and mobility challenges.
Powerful, fast and efficient
MCI electric coaches use high-torque electric drive systems for operation at highway speeds, have long-distance range applications, and deliver plug-in battery charging to 100 percent in less than four hours.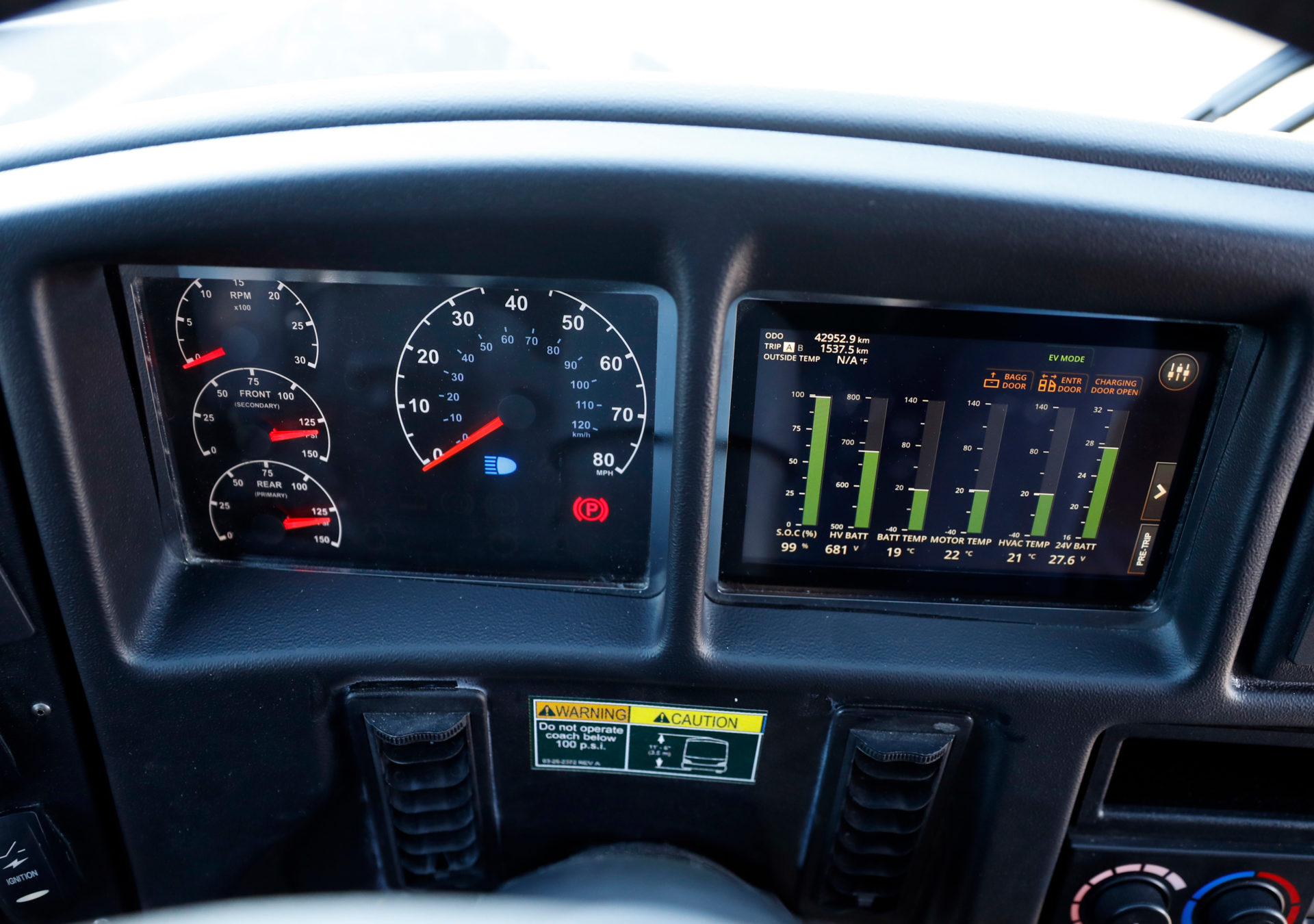 Safety
Quick measurements
GVW

Front Axle Rating

Drive Axle Rating

Tag Axle Rating

Length

Width

Height

Front Overhang

Rear Overhang

Wheelbase – front axle to drive axle

Turning Radius (to bumper), Steer Tag

Standard Seating Capacity

Interior Floor to Ceiling Height

Parcel rack capacity with lift, without lavatory

Battery Storage Capacity

Warranty

45′

54,000

17,000 lb

23,000 lb

16,500 lb

45′ 10″

102″

138.6″

79″

106.7″

315″

41′ 9″

54 passengers

78″

103.6 cu ft

389 kWh

24 months, unlimited miles
Stylish Interior
Optional rear window and LED lighting to enhance its modern style
Instrument Panel
Updated cockpit with a redesigned, ergonomic dash
Seating
Customizable interior design options to match your style
High Performance
North American standard CCS1 charging connector
Low-entry mid-door ADA compliant ramp
Accommodates a wider variety of mobility aids while decreasing dwell time
Riding experience
Dignified boarding, improved wheelchair securement and a comfortable riding experience for passengers with mobility disabilities